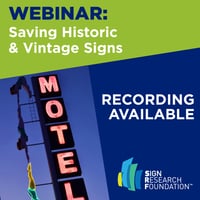 Historic and vintage signs can rekindle fond memories of the past, transporting us to a time and place when nearly all businesses were locally-owned shops on Main Street, USA. Today, these signs represent a one-of-a-kind piece of nostalgia and art, as vivid as a neon landmark.
The Sign Research Foundation (SRF) hosted a webinar on March 9, 2022 to learn how a variety of jurisdictions regulate and promote the restoration of these iconic community signs. Participants learned how historic signs can promote tourism and enhance economic development.
Webinar Recorded March 9, 2022
Cost: $15
Click here to download the webinar recording
The resource is also available separately on the SRF website for $19.99 for digital download.
This program was led by Dan Bursuck, AICP planner, City of Tucson AZ; Anthony Riederer, AICP, Senior Design and Preservation Planner for Clackamas County OR, and James Carpentier, AICP, Director of Local & State Government Affairs, International Sign Association.
Questions? Contact ISA's James Carpentier at james.carpentier@signs.org or 480.773.3756.