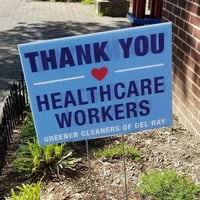 Date: POSTPONED | Stay tuned for an update date/time.
Time: 2:00 PM ET/11:00 AM PT
Cost: $15
Credits: 1.5 CM
This is your chance to see a timely workshop that was approved for the 2020 National APA conference in Houston. Attendees will learn the roles that signs play in crisis responses to natural disasters and pandemics, including challenges to community and business resilience. Real-case scenarios from Harris County TX will be reviewed. Attendees will also learn how local leaders can use visual communications for wayfinding and transportation solutions in disaster response and recovery.
Providing your email to ISA/SRF allows us to provide services or subscribe you to our email communications. We will not disclose your email to third parties. If you no longer wish to receive communications, simply follow the unsubscribe instructions that appear in these email communications. Find ISA's full privacy policy here.
Questions? Contact ISA's James Carpentier at james.carpentier@signs.org or 480.773.3756.