New Resource from the Sign Research Foundation
Many communities struggle to regulate signs in a way that is as content-neutral as possible. Following on the heels of two recent U.S. Supreme Court cases on this topic, Reed v. Town of Gilbert and City of Austin vs. Reagan National Advertising, the Sign Research Foundation (SRF) now offers a resource to help clarify the issue of regulating content-neutral sign codes for your communities.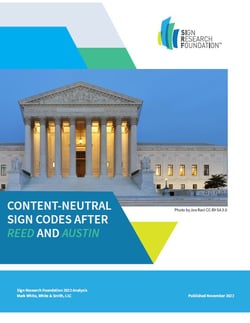 This new resource, Content-Neutral Sign Codes After Reed and Austin, provides the latest legal developments and guidance so that local officials can learn how to draft and enforce sign codes that are in compliance with the federal court decisions in the United States.

In particular, this resource clarifies what constitutes a content-neutral sign code, including how to regulate on-premise versus off-premise (billboards) signs. It summarizes the state of the law, sorts through the practical issues of content-neutral regulations, and offers pointers for local governments considering a sign code update.
Price: $29.99
Learn more and download the resource from the Sign Research Foundation's website here: SignResearch.org/ContentNeutral.