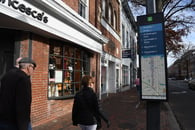 The Sign Research Foundation recently released a new research report, Wayfinding Management: Models & Methods in Healthcare Environments.
Wayfinding Management looks at best practices in large healthcare institutions where visitors rely on signs and maps to guide them through these ever-changing landscapes.
Seven case studies offer protocols to make it as easy as possible for visitors to navigate massive and often overwhelming facilities.
Many of these best practices may be applied outside healthcare—to any complex facility that relies on efficiently navigating visitors.
City planners may also find the Sign Research Foundation's Urban Wayfinding Manual useful for helping citizens and visitors get around communities safely and easily.
Executive summaries are available for both of these reports.