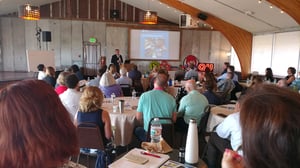 Take advantage of this opportunity to receive unique educational content from sign code experts during this Planning for Sign Code SuccessTM workshop in Birmingham, AL.
Register using the form below!
• Learn the impacts of the Reed v. Town of Gilbert case and other legal issues
• Understand the technologies and regulations involved with electronic message centers
• Learn how to develop codes that encourage attractive signs in your community
• Help your community to have policies and processes which are inclusive and effective

Event Details:
Date: Friday, July 26, 2019
Time: 8:30 am - 3:00 pm
Cost: $25 (Continental breakfast and lunch are included)
Location: Ross Bridge Golf and Spa Resort, Birmingham, AL
CM Credits: 4.5, including 1.5 Law
Full Event Schedule
Providing your email to ISA/SRF allows us to provide services or subscribe you to our email communications. We will not disclose your email to third parties. If you no longer wish to receive communications, simply follow the unsubscribe instructions that appear in these email communications. We will use credit card information only to complete the transactions you have requested. Find ISA's full privacy policy here.
Questions? Contact ISA's James Carpentier at james.carpentier@signs.org or 480.773.3756.